Judgment Recovery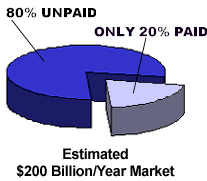 If you have a court awarded judgment against an individual or a business, we will utilize a number of legal methods to satisfy your judgment. These can include liens on property, foreclosures, wage garnishment, bank account seizure, income interception, negotiated payments etc…The method employed depends on the debtor's individual situation and level of cooperation. We use aggressive but legal methods that have been proven effective.
In order for Blackbriar Holdings to assist in recovering your judgment, it will be transferred to us for enforcement. Please provide us all

relevant information and we will prepare the necessary legal documents, and then send them to you. Upon receipt of these documents please review them for complete accuracy, sign, and return them to us. We will take care of all the rest.
Many of our clients choose to simply sell their uncollected Judgment as opposed to try and collect it. This process is usually much faster and allows receipt of funds a lot quicker. Please provide us all information about the Judgment and we will contact you with a purchase price for your Judgment.